Not that you've asked, but I'm a sweaty beast. I don't know when it happened. When I was younger, I never sweated. Like never, no matter how hot it was or what I was doing.
Then when I started exercising in earnest about 18 months ago I learned things have changed. Maybe it's a slower metabolism or differing hormones or advanced age or a combination of factors, but now I sweat like it's going out of style. At my RivFit class this week I apologized to the girl doing box jumps next to me because I was pretty sure droplets of sweat were flinging off the ends of my pigtails. I could actually feel sweat pooling on my eyelids.
My children recoil and run away when I come home after a run or workout. I am slick with sweat. I am disgusting. I find it strangely fascinating and hugely satisfying.
Anyway, with the new sweatiness I've developed a definite preference for tech fabrics and for certain cuts of bottoms (I'll cover that another time; for now suffice it to say I really hate the feel of sweat rolling down my legs under pants). There is nothing worse than walking around in a shirt soppy in cold sweat.
If you follow me on Instagram or FB you've seen this shirt YMX by Yellowman sent me. A lot. I've worn it to kickboxing, RivFit, yoga, the gym and running. And to dinner. And the beach.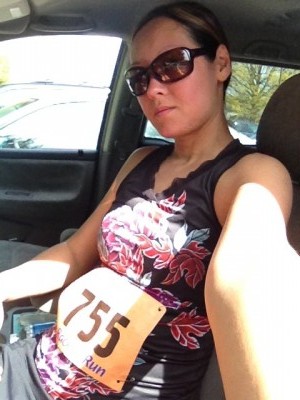 It's the Black Living Peony Tank. It's in my top 5 most worn tops right now for a lot of reasons, but first I want to give you a bit of background about the design.
YMX apparel is collectible, wearable tattoo art. The company founder traveled the globe tracking down and building up a library of tattoo art spanning Japanese Irezumi, Maori Tribal, American Traditional, New School, Biomechanical, even rare work from a remote Buddhist monk in Thailand. Why? Tattoos are universal yet culturally symbolic. They cross cultural borders and attitudes. If you're inked, you get it. Tattoos have meaning and they bring people together.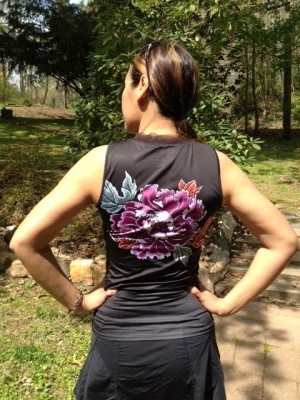 YellowMan founder, Peter Mui, started the concept of YellowMan under that premise that skin color should never be a barrier against social status. He should know. Chinese blood, and Oklahoma native, his identity breaks all the usual cultural stereotypes. He's true to all dimensions of his identity, proudly exuding his Chinese heritage on one side and down-home country singer on the other. Tall, broad-shouldered, and overflowing with confidence, Peter Mui can not be packaged into any preconceived category.

And so it is that he thumbs his nose on the derogatory label "Yellow," and instead declares it a badge of integrity and pride for those who dare to be different.
Speaking as someone who has similarly reclaimed "derogatory" ethnic labels (I like to answer the inevitable "what are you?" with "Oriental- like the rug") I can't even tell you how much I love this, and it's pretty much enough to make me a brand loyalist all on its own.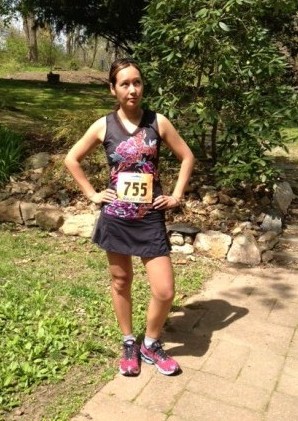 But BONUS! DOUBLE PRIZES! this gear is high quality stuff, folks.
Most notably, it is light and sweat wicking like nobody's business. The design also helps mask all that sweat so people passing by on the street aren't horrified by what a slimy mess you are.
The sweat evaporates quickly. It also dries quickly out of the wash.
It's got SPF 30+ UV protection built in.
It's soft and comfortable.
The fabric has a slight sheen that makes it look dressy, as does the detailing around the neck.
It's hard wearing, having gone through the wash umpteen times it still looks like new.
Available for men and in plus sizes, unlike a lot of fitness apparel companies.
It doesn't wrinkle. At all. This makes it particularly nice for traveling, as it doesn't make you look like a slob (some people would say "doesn't require ironing" but let's be real folks, I haven't ironed since I stopped working at Small's Formal Wear in 1996), takes up like NO suitcase space and does double duty as workout or everyday wear.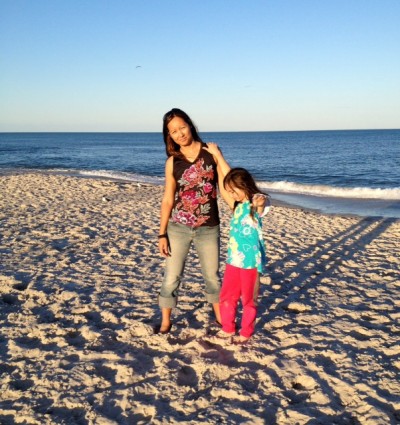 YMX also sent me a long sleeve top, the Elemental Earth in pink. I don't have many pics of this one as a) I generally prefer tank tops even in cold weather and b) when I did wear it to run, I wore it as a base layer which isn't very interesting to photograph. As a base layer it's ideal, both for the sweat wicking and because it's so light you don't even notice it's there.
The tech fabric is temperature regulating, which means that it'll stay cool if I wear it over a sports bra for early morning beach runs (which I intend to, so as to avoid tan lines), but also that it kept me warm and toasty when I wore it under a hoodie for winter runs.
This outfit is a good example of one you can get away with all day and then wear for a run. Just change your shoes. Or rock your sneaks all day if you're so inclined. (Running skirt is Palm Beach Athletic Wear.)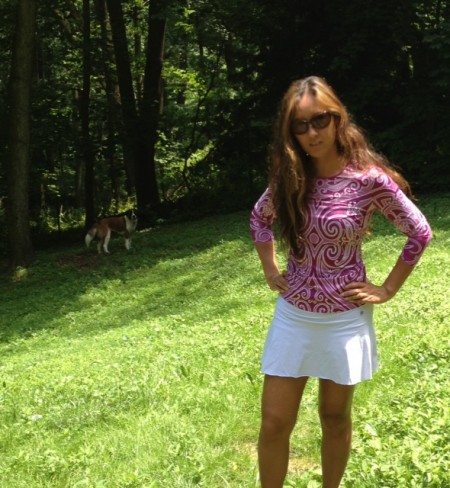 It's worth noting that both the sleeveless and long sleeve styles are cut close with a ton of stretch. What that means is that there's no peekaboo cleavage issues, and my biceps look kind of awesome in the clingy long sleeve. While I usually freak about "grabby" clothes, I don't mind these at all because they're so soft & stretchy and there's no issues with seams (I just checked to see if they had seams. They do, but I honestly didn't know, so there you go). You CAN see bra lines and pant waist lines, I'm used to that but if you have issues size up.
Are they big box cheap? Nope, and they're not disposable big box quality either. These are built to last through all seasons and are appropriate for a variety of sports. (The sun protection is a valuable added value.) You can also wear them as badass casual wear.
As I say, quality is the new sustainable, and I think these are excellent investment pieces. The trick is just to find the design that speaks to you and you'll get the most wear out of.
I think they did a good job picking out prints for me but it was still easy to find more faves:
Join us on Twitter tonight for a chat with YMX by Yellowman and you'll have a chance to win your own top! Hashtag is #lifeartsport, chat takes place at 9EST, and I'll be tweeting from the @FitFluential account.
Tell me if you see a design you like.
Tell me if you have a tattoo. Or are planning on one.
Tell me if you find strange satisfaction in rivers of sweat.
read more