Did you realize the Thin Mint is the THIRD MOST SOLD COOKIE IN THE US? Given that only two commercial bakers produce Girl Scout cookies and they're only around for a few fleeting sweet, sweet weeks, that's mind-blowing.
I'm over the thin mint, myself. I'm all about the Savannah Smiles. Savannah Smiles are pretty much cookie crack. Light and lemony with a dusting of powdered sugar, they are delicious and refreshing and filled with rainbows and stardust and David Tennant episodes of Doctor Who and all those other good things in the world.
We loved them so much we made a buttery, lemony crust out of them. And then put some key lime cheesecake filling on top. And then ate it up like it was available for a limited time only… which it is, and that's a good thing. Otherwise I'd weigh a million pounds and my heart would explode.
Here's your ticket to once-a-year heaven.
Key Lime Cheesecake with Savannah Smiles Crust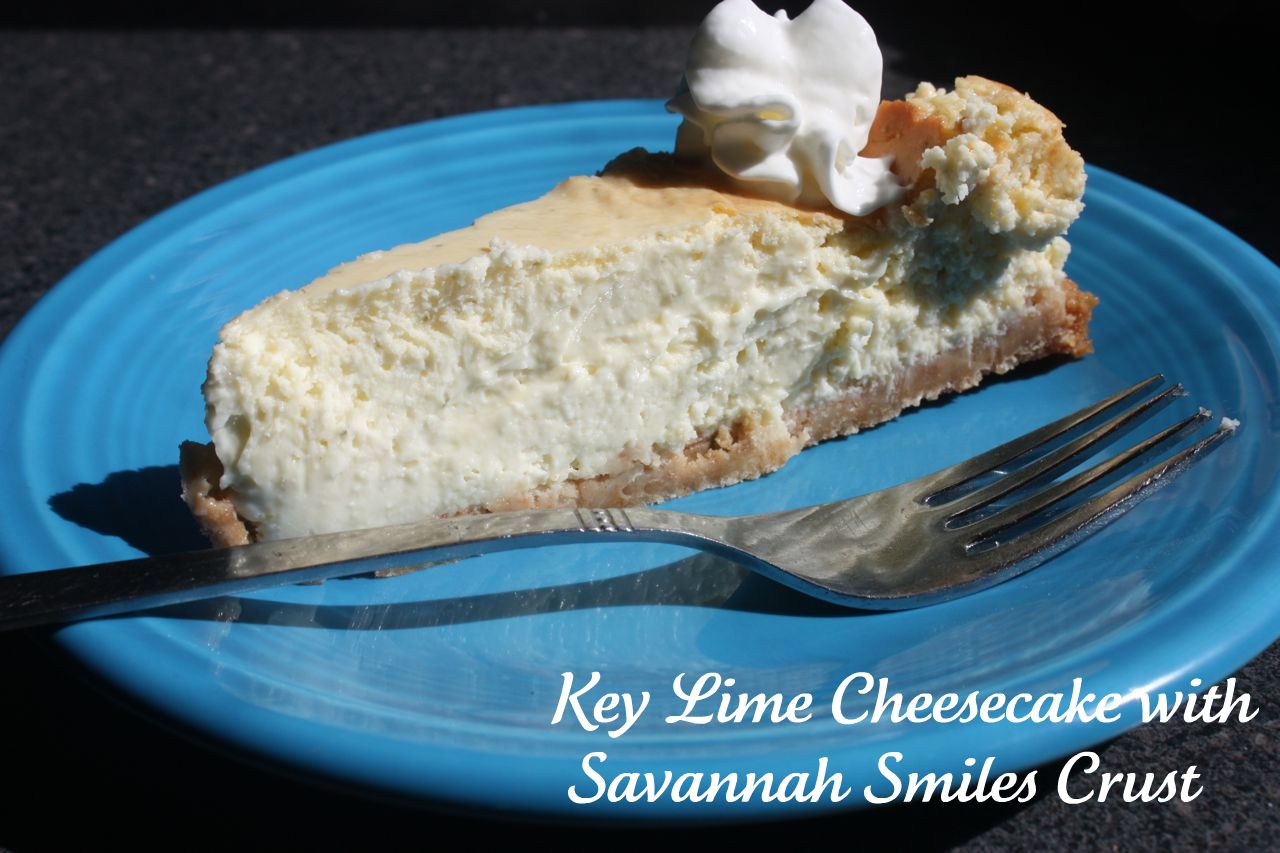 Ingredients
2 1/2 cups Savannah Smiles crumbs (One box + 12 cookies)
7 ½ tablespoons butter, melted
one tablespoon butter for the pan
3 (12 ounce) packages cream cheese, room temperature
1 ½ cups sugar
1 ½ teaspoons vanilla extract
9 tablespoons key lime juice
4 eggs
3 tablespoons sour cream
Instructions
Preheat oven to 350°F. Butter pan liberally with your tablespoon of butter.
Combine Savannah Smile crumbs and butter.
Press crumb mixture onto bottom and partially up the sides of a 9-inch springform pan.
Bake crust for 5 minutes, then refrigerate.
In large mixing bowl or in standing mixer (recommended), beat cream cheese and sugar together until smooth.
Add vanilla and key lime juice and mix well.
Add eggs, one at a time.
Add sour cream and mix by hand.
Slowly pour into pan.
Bake 45 minutes (cheesecake will still jiggle in the very middle).
Turn off oven and resist temptation to take out cheesecake. That sucker needs 30 minutes rest time to firm up.
After the time is up place pan on wire rack until room temperature.
Once at room temp, stick in fridge for about 4 hours.
Serve. Savor. Enjoy.
Notes
Pulverizing the cookies into crumbs was easy: just take a rolling pin to the still-sealed bag. When the crumbs are small enough, cut off one corner of the bag to empty; then feed your +12 cookies into the bag, fold over, and commence with the rolling pin.
http://honeybadgermom.com/2013/04/01/key-lime-cheesecake-savannah-smiles-crust/
Copyright 2012 HoneyBadgerMom.com
read more