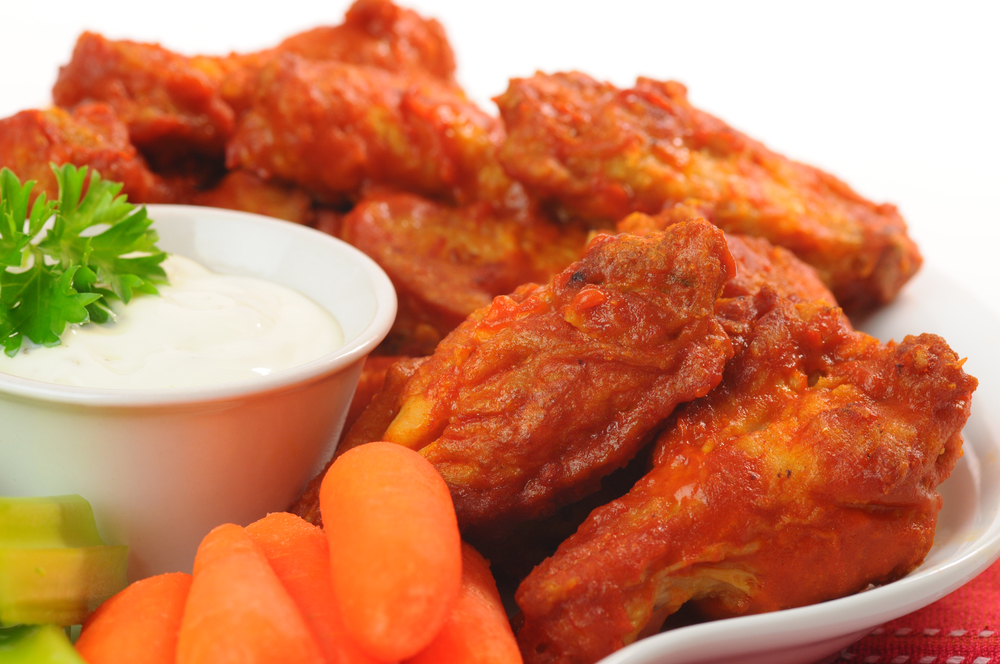 photo: Depositphoto
I somehow managed to make it until I was about 30 years old without ever eating a buffalo wing.
Yeah, I KNOW.
Fried chicken, yes. We lived around the corner from a KFC/Taco Bell combo restaurant for years (we never ate there, once you've been subjected to the smell on a humid August morning on trash day you never want Taco Bell again). And around the corner from there stood a Walt's Flavor Crisp, which is without doubt the best fried chicken you can get locally. Walt's is the only thing I miss about living in the city.
Anyway. We ate fast food pretty much never when I was a kid, wings were not in my mom's wheelhouse I guess, and I just never ordered wings while eating out.
I was introduced to Buffalo Wild Wings and my culinary world got rocked. Then I tried the wings at the diner at our beach (Chicken or the Egg; their Ludacris wings were a Man Vs Food challenge:
Wings are now one of my go-to comfort foods, surpassed only by my love of a cheesesteak.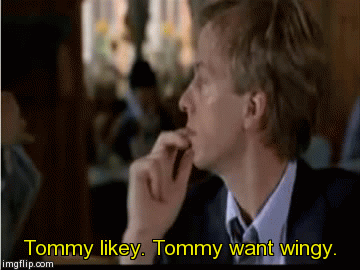 This is literally all I can think of when I'm driving home with a bag full of wings.
Anyway. We were out at the grocery store and I happened to see this:
Sweet Baby Ray's is one of our favorite BBQ sauces, and once I saw that jar I was craving some wings.
Tommy Boy was doing his chant in my head, wings were on sale, I knew we had a ton of vegetable oil in the pantry from a fairly recent Costco run, and lo it was decided we were going to try our hand at making our own.
This is one of those recipes that seems ridiculous to post if you already know how to do it, but I'd only really seen buffalo wings made start-to-finish once and I wasn't paying close attention. I can't be the only one who had to look it up, so that's why I'm sharing.
We have a Presto ProFry deep fryer that my brother lent us, but you can also fry in a deep pot or wok on the stovetop (which is how my mom made eggrolls). It'll take longer since you'll be working in smaller batches.
To make life easier and safer I also recommend a spider and a good set of tongs, plus large (gallon size) Ziploc bags will minimize cleanup.
Anywho, the steps are simple.
Easy Homemade Deep Fried Buffalo Wings
Makes enough for our family of 5 wing lovers
36 chicken wings (Costco is an amazing deal on these, this recipe uses half the package)
1 1/2 cups of all purpose flour
3/4 tsp cayenne pepper
3/4 tsp paprika
1/4 teaspoon garlic powder
you can add 1/4 tsp of salt and some pepper if you want. I never add salt to recipes
3/4 cup Sweet Baby Ray's Wing Sauce, another brand's wing sauce OR 3/4 cup of a hot sauce like Frank's + 3/4 cup of melted butter
vegetable oil for the fryer— again, Costco is a great deal. Save your container to keep your oil in for next time!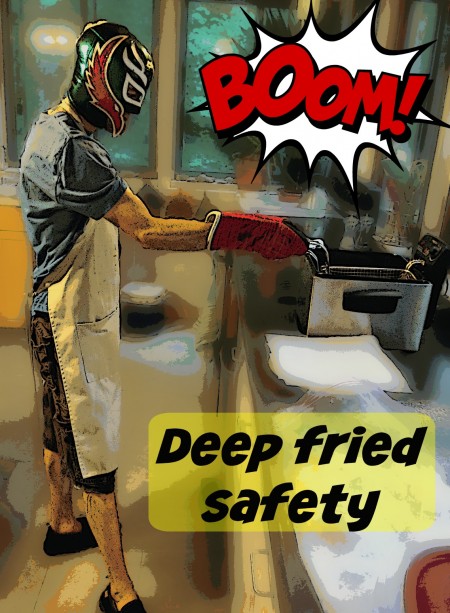 *NOTE*
Hot oil splatters and it hurts. Here, Jeff is illustrating ideal deep fryer safety.
deep fryer all alone on the counter with nothing touching it
shoes
apron (if you get grease on your clothes it will stain, and become a hazard in the dryer)
oven mitt
Mexican wrestling mask optional.
If wings are frozen, they'll need to be thawed and patted dry before starting.
1. Combine your flour, cayenne pepper, paprika, garlic powder and optional salt & pepper in a large dish or Ziploc bag. Add wings in batches and roll or shake until covered.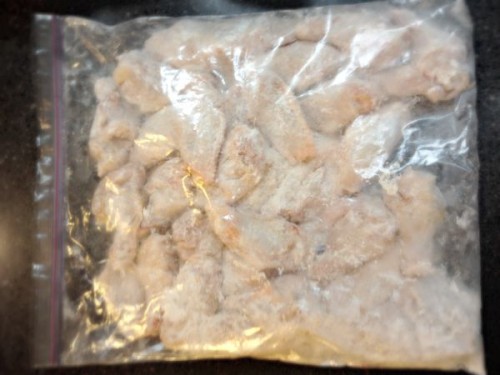 2. Throw container/Ziploc bag full of floured wings into freezer for 15 minutes or so, it helps the breading stick while frying.
3. A deep fryer will have a minimum and maximum line on the inside; add enough vegetable oil to hit the minimum and heat to 375°. If using a pot you'll want it a few inches deep for this quantity and ideally you should confirm the temperature with a cooking thermometer (make sure yours is safe to use at this temperature).
4. Put some wings into deep fryer basket (or spider if using stovetop pot) and lower gently into oil. Cook for 10-15 minutes, or until wing extremities are turning dark.
5. Pour your wing sauce or hot sauce/butter combo into a clean container with a lid OR your Ziploc bag.
6. Drain cooked wings on some paper towels for a minute— don't let them cool too much— then transfer with tongs to the container/Ziploc bag. Seal, then shake until wings are covered in sauce.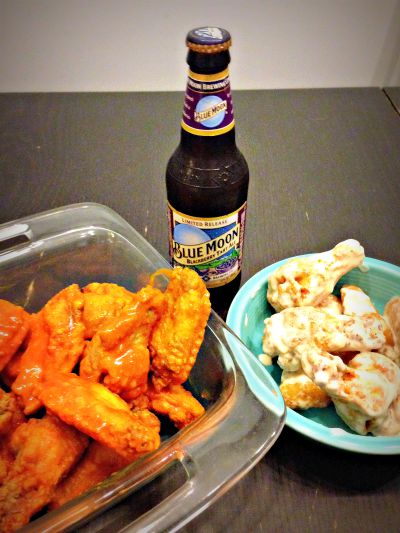 Cass doesn't do hot/spicy, at all, so we mixed some melted butter with garlic parmesan pasta sauce for her wing sauce.
Serve with ranch or blue cheese dressing (Marie's is my favorite, lots of cheesy chunks) and some cut up celery, carrots, or really any raw veggies. I also recommend beer 🙂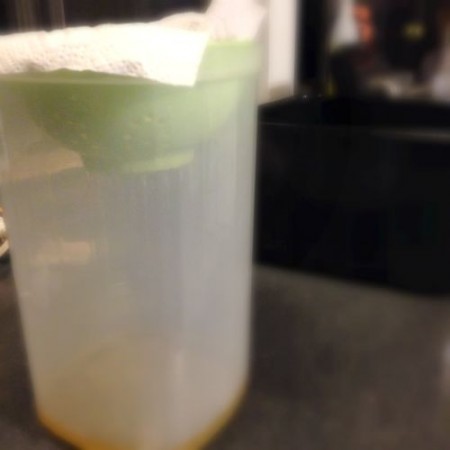 You can save the oil for another day by first skimming off any solid yuck with your spider, then fine filtering through a colander, strainer or funnel lined with paper towels. It will take a while, so budget your time accordingly. If filtering stalls, completely change to new paper towels. Stop when you get to the layer of flour at the bottom. Refrigerate oil until next deep fry day. (This article gives a solid breakdown of how many times you can reuse your deep fryer oil and why.)
Wings go for 75 cents per or more at this quantity at restaurants; our cost was about 40 cents per wing when including the cost of oil. When we reuse the oil that drops to 26 cents per wing; so let's call it feeding five for about $12 if we load up on veggies too. Not terrible for a family fave.
Are you a wing fan? Who makes your favorite?
read more