So Cindy of Whatever Works is throwing a party. A virtual Progressive Party, where house #1 has the appetizers, house #2 has the salad, house #3 serves up the main course, and so on. It's a potluck with GPS.
Only in this case the hosts are Philly-area bloggers, and the houses are blogs. You savvy?
I just wasn't inspired to cook for a crowd (I'm difficult like that), so I volunteered to plate some hot tunes for you all. And as always I bring a heaping helping of bad humor to the party. Enjoy.
(Song titles are in bold. Progressive Party recipe links are after the story. Scroll to the end and hit play to listen to the entire playlist.)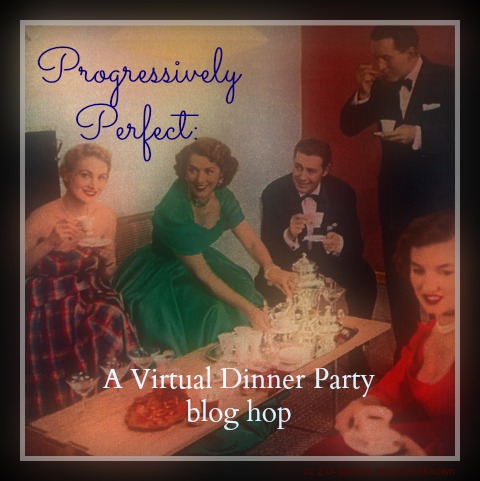 All I Wanna Do is have some fun. So let's Get The Party Started!
In my mind, this is how the party would go down for me and Jeff:
We've prepped for this party by skipping lunch- we've got the Appetite Blues. We descend onto the first houses and tear through the appetizers; the awkward conversation we make doesn't disguise that we're Hungry Like the Wolf.
Appetizers take the edge off, and we move on to salads like civilized folks. Forks and knives and napkins and polite conversation, y'all. Or in my case, awkward conversation. We munch our Vegetables nestled in their beds of lettuce and I mention to some random person how Every I Time I Eat Vegetables It Makes Me Think Of You.
On a hot summer's night there's nothing like a cold beverage to wash down good food and assuage the socially awkward fear of making more stupid observations out loud, so as we hit up houses serving before dinner apértifs some of us may seek out the hard liquor. Hey, liquor before beer, never fear, amiright?
Soon enough the pours and the conversation are flowing like Red Red Wine. First there's a Champagne Supernova, then choices of Gin & Juice or Tequila. No one touches the Funky Cold Medina… yet. Look at what grownups we are.
I throw back One Bourbon, One Scotch, One Beer for the road. (Don't worry. My darling husband is my designated driver as usual, and sticks to Orange Crush.)
Now, When I Drink, I fancy myself quite the conversationalist. The anecdotes and jokes fall from my tongue Just Like Honey. Understandably, you, innocent partygoer, are alarmed as I corner you with my wit and labyrinthine stories. You make as if you might take off early, but you Can't Go Back to Jersey, darling, not after those drinks. Anyway, by the time the Dinner Bell rings I can tell that We're Going to Be Friends.
The drinks continue to flow throughout the meal— we're a fun group— and soon enough You're My Best Friend. Par for the course when you have a group of friends and alcohol, we start reminiscing about the old days of our friendship, wonder why we don't spend more time together, make grandiose plans for the future. We grow sentimental. La La Love You, man.
We sit in a Circle and talk about how you can Lean on Me and are grateful that you Stand by Me, but, you know. That's What Friends Are for. By the time we're singing about our Friends in Low Places and attempting conga lines to We Are Family, though, we recognize that this has gone far enough and it's time to sober up.
Dessert time! "C" is for Cookie, and maybe Candy too. Perhaps a seasonal Cherry Pie? Not quite ready for the night to end, I sip One More Cup of Coffee with Milk and Sugar; Jeff has the Cold Tea Blues.
And then Candy Girl Kelly Brown breaks out her stash of gummy bears soaked in vodka, and I can't help breaking out into The Gummy Bear Song, and Jeff is nudging me to leave, and I feel rude going, but he points out Who Says You Can't Go Home.
Yeah, well, I suddenly realize it's past 2 in the morning and maybe I was ready to leave anyway, Where Is My Mind. Jeff whispers that there is no need for extended goodbyes, we'll all see each other again soon I promise, Shut Up and Let Me Go.
Or something like that. Maybe your parties are different 🙂
 Not a Spotify user? You should be, it's awesome. You can sign up here. It's free unless you want to upgrade (and not to upsell you- it's worth every penny).
But since it has come to my attention that some people don't use Spotify and don't wanna: here are the songs on Amazon.
All I Wanna Do (Sheryl Crow)

Get The Party Started (P!nk)

Appetite Blues (Lightnin' Hopkins)

Hungry Like the Wolf (Duran Duran)

Vegetables (The Beach Boys)

Everytime I Eat Vegetables It Makes Me Think Of You (The Ramones)

Cold Beverage (G Love & Special Sauce)

Red, Red Wine (Neil Diamond)

Champagne Supernova (Oasis)

Gin And Juice (Snoop Dogg)

Tequila (The Champs)

Funky Cold Medina (Tone Loc)

One Bourbon, One Scotch, One Beer (George Thorogood & the Destroyers)

Orange Crush (R.E.M.)

When I Drink (The Avett Brothers)

Just Like Honey (Jesus & Mary Chain)

Can't Go Back To Jersey (G Love & Special Sauce)

Dinner Bell (They Might Be Giants)

We're Going To Be Friends (The White Stripes)

You're My Best Friend (Queen)

La La Love You (Pixies)

Circle (Edie Brickell & the New Bohemians)

Lean On Me (Bill Withers)

Stand By Me (Ben E King)

That's What Friends Are For (Dionne Warwick)

Friends In Low Places (Garth Brooks)

We Are Family (Sister Sledge)

"C" Is For Cookie (Cookie Monster)

Candy (Iggy Pop & Kate Pierson)

Cherry Pie (Warrant)

One More Cup Of Coffee (Bob Dylan)

Milk And Sugar (G Love & Special Sauce)

Cold Tea Blues (Cowboy Junkies)

Candy Girl (New Edition)

The Gummy Bear Song (Gummibar)

Who Says You Can't Go Home (Bon Jovi With Jennifer Nettles)

Where Is My Mind? (Pixies)

Shut Up And Let Me Go (The Ting Tings)
To get the full Progressively Perfect Virtual Dinner Party blog hop experience, click the links below in order:
 Appetizers
Salad
Drinks
Entrees
Coffee, Tea & Dessert
Here are the corrections. The only one that isn't live is Sarah's, but I am assuming that her URL will just be changed to today's date (which I did). I'm so sorry!!!
Late Night
Decorations, Outfits and Music
Hope you have as much fun reading through the party as we did planning it!
read more