In which Lee Jeans gives me a pair of jeans and makes me feel like less of a man.
Ever since I was, I don't know, 15 maybe, I've said that I have the figure of a 14 year old boy.
Which is to say, I have that awkward bearing a boy possesses when he suddenly finds himself going through puberty, growing rapidly seemingly overnight like Alice after eating from the side of the mushroom that makes you taller. Trapped in a body that he doesn't quite know the dimensions of yet, hunching over as if he could fold back into his younger shape.
I also have no curves— at least, not the good kind.
All this was confirmed when my own son was 14 and wore the exact same size and shoes that I did, tipping the scale at around the same weight (at 15, we stand at almost exactly the same height; he prefers his shoes a half size larger). From the back you could barely tell us apart. (The hair helps.)
Anyway, it's always been hella hard to find clothes that hang right on me. They tend to accomodate things I don't have (boobage, backside) while not giving enough in the areas I need them to (man shoulders, thighs). Jeans are a particular pain because I have big hips and "athletic" thighs and calves relative to my waist, so I need to size up. The end result is jeans that gap in the waist and fall down all. day. long.
In the last year or so I've embraced the trouser jean and yoga pant just to avoid having to go jean shopping: my last two decent pairs have developed holes in the knees. (They'd done their time, though. They were at least a decade old.)
Earlier this month I put on my big girl panties and braved driving into Philly by myself (I suck at city driving) to check out the Mom Mixer hosted by Colleen of Classy Mommy and Whitney at Mommies With Style. I missed the hotel and wound up circling with an ever-growing panic, but I eventually figured it out and arrived, albeit 20 minutes late.
I was so glad I did! The lateness of the hour meant I missed out on some things, but I did get to chat with a Lee Jeans stylist who quickly sized me up and sent me to try on some jeans that were not in my comfort zone— meaning, not something I'd ever glance at on a shelf and think, dang that would look good on me.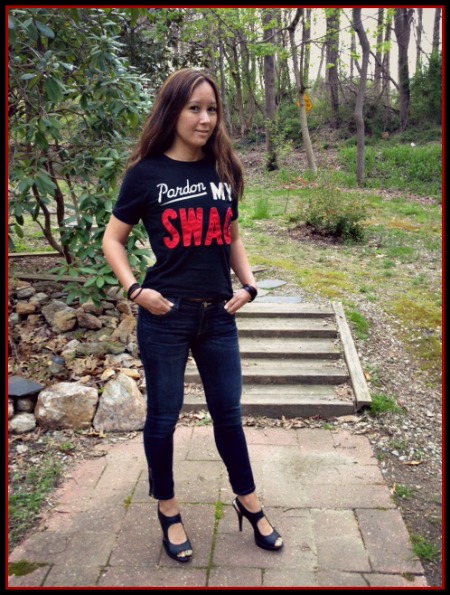 And this is what I came home with.
Good, yeah? Ignoring the cheesy smile. They're skinny jeans, but with a TON of stretch. That means that they're comfy, but also that I was able to go with a smaller waist size and still fit my kickboxing thighs in there.
(It bears noting— I first tried on a pair in the size I wear at Anthropologie and J. Crew and I felt like I was going to bust out of them at the thighs and calves, Incredible Hulk style. Maybe they would have been OK after wearing for a few minutes and letting the stretch do its thing, but it wasn't a risk I was willing to take in a room full of people.)
They also zip at the ankle and have zippers along the pockets for a bit of edgy detail, like my favorite pair of jeans did when I was, I don't know. 16? It's true what they say about trends returning after 20 years. I believe they are the Nirvana and dude, they are on sale.
According to the cheat sheet the Lee Jeans folks gave me, the boyish figure should look for jeans with a low to mid-rise in a bootcut or skinny style, with handsanding or whiskering at the thighs and decorated or flap back pockets to accentuate curves (or in my case, give the illusion of curves in the right places).
I didn't ask my 12 year old to take any photos of my backside, but IMHO these are very flattering to one's… ahem… assets.
I wore 'em to another event this past weekend, the Type-A Advanced conference in Philly. My carpool buddy Kelly of The Turnip Farmer commented on how I was dressed in comfy clothes on the drive up.
I looked like this.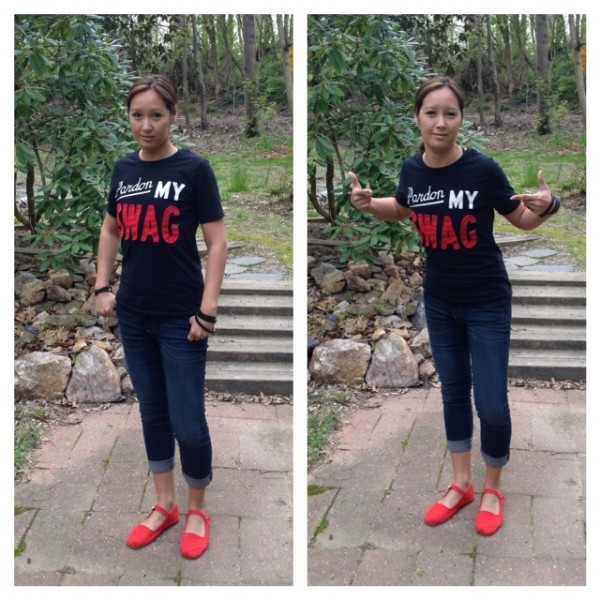 Once we got there I switched out my Chinese shoes (2 for $20 at Urban Outfitters, I buy 2 pair every year) for a pair of heels. LOVE that these jeans go from laidback to luxe by just unrolling the cuff and changing your shoes. Also, the way stilettos totally change the way you hold yourself.
Making me a bit less of a man. More of a lady.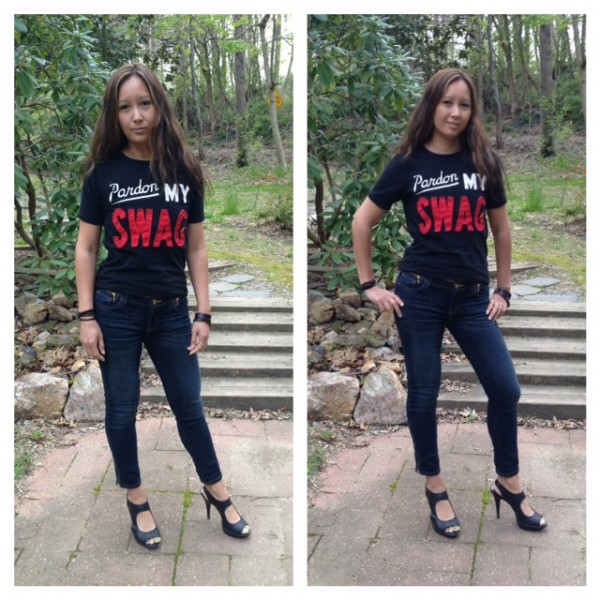 I'm thinking some colored denim may be in my future, after seeing them at the Lee display. The next step out of my style comfort zone.
After all, I'm LEAPing this year in all possible ways! Looking forward to having some fun with my wardrobe.
What's your major wardrobe trial?
Thinking of making any stylin' leaps this year?
*My teenage son did not think I would wear this t-shirt in public. He was mistaken. If you, too, would like to embarrass your teenaged son by flaunting the swag he claims you do not have, the shirt is on sale at Aéropostale for 8 bucks right now. TOTALLY WORTH IT.*
**Lee Jeans gifted me with a pair of jeans. My opinions are my own. I believe the photos speak for themselves.**