I am a fashion person, and fashion is not only about clothes— it's about all kinds of change.

― Karl Lagerfeld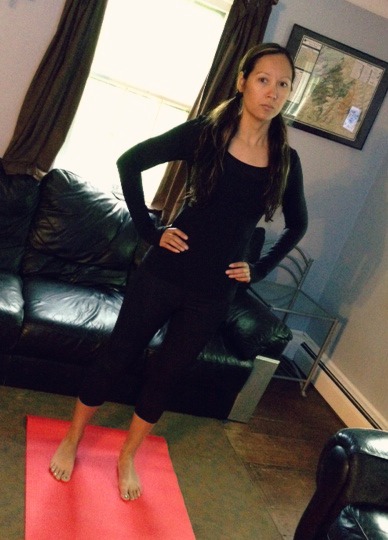 I'm super picky about clothes.
I need them to fit fairly closely, but not so close that I feel constricted or that I am aware of the seams.
I need them to fall under a certain aesthetic.
I really like not-so-basic black; classic styles with little tweaks that make them interesting or stand out.
I like to look good and be comfy.
And with fitness clothing, I need it to be performance-based, super wicking (I am a very sweaty person) and a good value for the money.
Lorna Jane Active sent me some pieces to try out and review, and dang if they don't hit every one of those points and then some.
Lorna Jane makes me feel like a ninja.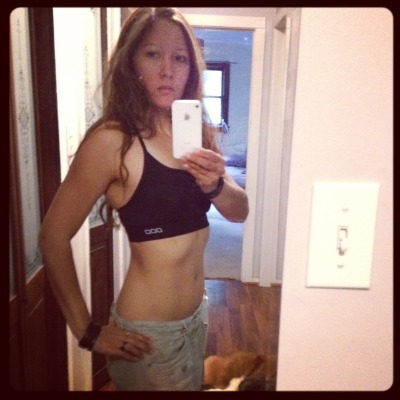 The sports bra is plenty supportive for a small-chested gal like me, with enough padding to create a bit of cleavage (! I have NEVER EVER had cleavage) but not so much padding that I feel like I'm living a lie.
I've been wearing this bra pretty much all the time. I love it. I wear it with dresses, everyday clothes, running, to RivFit classes, for yoga, you name it.
It has an adjustable Y-back that I really like and don't mind flaunting under my boatneck tops.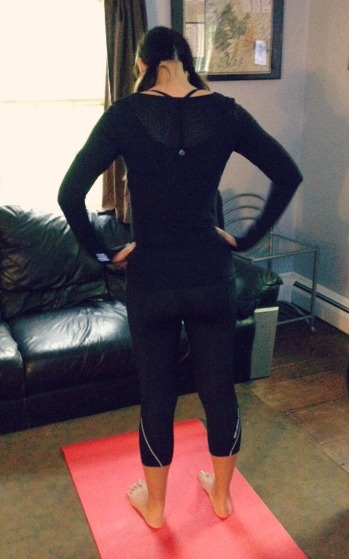 This top has a sheer panel across the front and the back that really lets you show off your interesting sports bras of varying colors (but I'm so hooked on the LJ bra that that's what you get photographed here). The fabric is stretchy and soft and has a sheen that masks the fact that it's athletic wear. I wore it to lunch at a nice-ish restaurant today. It's definitely in the rotation of my fave 3 or 4 fave long sleeve tops.
Best part is the fact that it has thumbholes— I love me some thumbholes. But while some thumbhole tops cut into my hands because I guess I have long arms, this one has both enough length and enough stretch that I rock the thumbhole all day long in comfort.
The pants pictured are compression tights and they are SERIOUS BUSINESS. There are actual compression panels that really hold you in. I look svelte, no? Like a dang ninja.
They are somewhat of a struggle to get into, much like my ProCompression socks. I don't recommend putting them on in the line of vision of someone you're trying to woo. But once on they're very comfy, no sausage casing effect.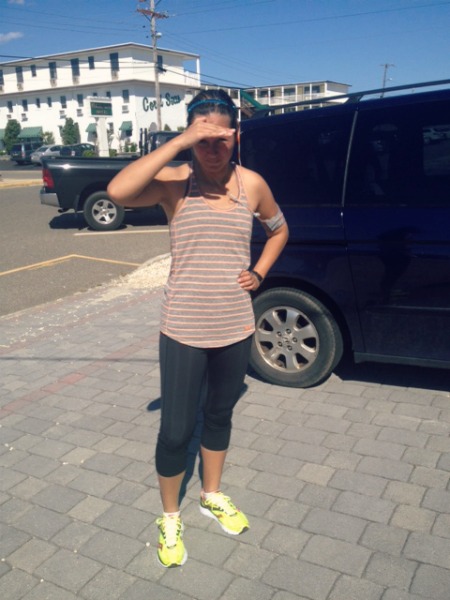 I wore them running on a fairly hot day (along with the LJ bra) and they both did great, no rubbing or chafing, although I was a little warm in the compression tights. I bet these will be good all through the winter.
Lastly, a top that combines my two favorite articles of clothing, the black tank top and the hoodie.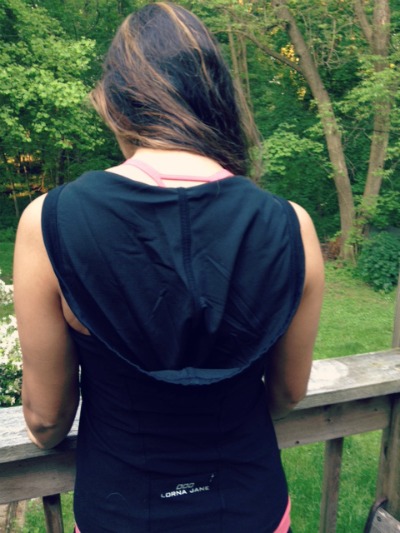 There's a little pocket above the Lorna Jane logo there.
Another slimcut top that breathes and wicks sweat but looks totally stylish.
I wore it with a coral Reebok tank underneath and a running skirt to a Fitness Magazine event in NYC. And I love that you wouldn't necessarily suspect that I was planning to workout in this outfit. Talk about sweat to street!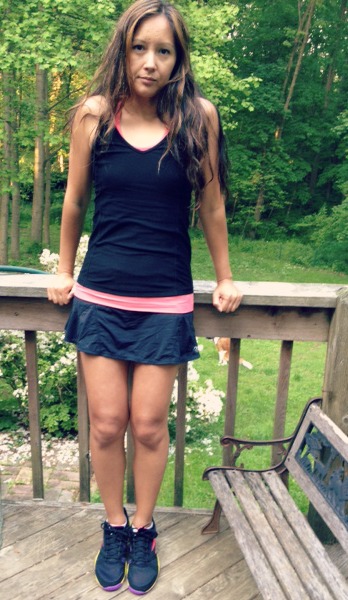 Bottom line: I've been pretty much living in these clothes since I received them. They are the types of things I would wear anyway first, and premium activewear to boot. Making them pretty much my ideal staple wardrobe pieces.
As a result they've also been laundered a ridiculous number of times in the past few weeks, and they still look brand new. Value for your dollar; endurable = sustainable.
And then there's the fact that Lorna Jane is a really awesome company built on the determination and vision of one woman— Lorna Jane herself— and a truly inspiring company mission to MOVE- NOURISH- BELIEVE.
I selected black ninja garb because that's what fits MY fashion sensibility and I wanted clothes I'd honestly wear again and again. But the selection at Lorna Jane runs the gamut, from currently on trend to more classic styling, from bright neons to more neutral colors. Mix and match as you feel comfortable in, but shop confident that the fit will be flattering and the cut will be comfortable.
Check it out and join us (I'll be tweeting from the @FitFluential account) for a #LIVEACTIVE chat with Lorna Jane on Twitter tonight at 9EST! We'll be talking about what it means to live an active, beautiful life and one person will win a $150 gift card.

Want to check out the specific styles I'm wearing? Links under the Polyvore board below.
read more